This Site
This site is comprised of html5, css3, php5 and javascript. jQuery is used wherever possible. All code was written with either Komodo or vi, or whatever text editor was handy at the time. It conforms to responsive design, and is fitted for different screen sizes and resolutions. Resize your window to see.
The Splash Page
The splash page features a rotating cube floating over a scrolling terrain. It's meant to look like the cube is in space. Hope you saw it that way. The terrain was created using the Gimp. The cube was created in blender, then exported to three.js.
The Home Page
After clicking on the splash page, the cube stops spinning and resizes to fit inside the pagoda. The terrain fades away, and the pogoda fades in. The cube is detached from the main window and placed inside the pagoda.
The roof, walls and floor of the pagoda were created with Adobe Illustrator. The background photo was taken by me and retouched with Adobe PhotoShop. It's from the cliff at Seacliff State Park, Aptos, CA.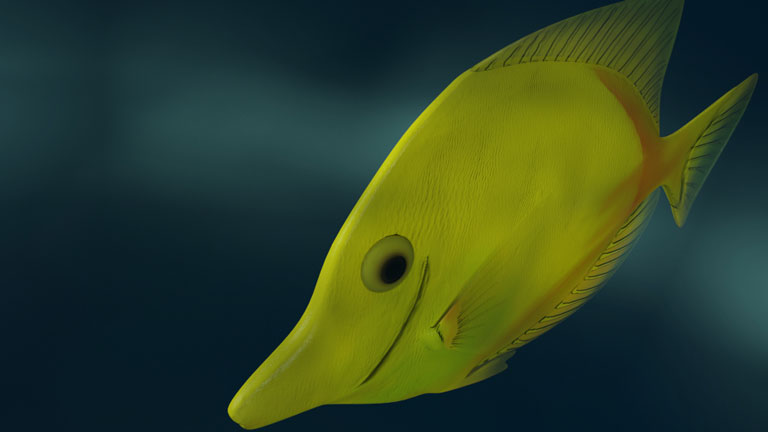 The Fish
The fish is a yellow tang created by my daughter, Sarah, in blender. It's supposed to look like the image on the right, but I couldn't quite get the skin right in three.js. Someday I'll make it a whole aquarium and animate the fish, too. That will need a lot of GPU power.